The Vietnamese government has recently issued Decision No. 13 on the mechanism to stimulate the development of on grid solar power plant in Vietnam. The applicable provisions of this regulation apply to the organizations and individuals developing grid tie solar panel kits for home in Vietnam and other relevant organizations and individuals. Regarding the responsibility for purchasing electricity from various on grid solar power plant projects, the power purchaser is responsible for purchasing all the electricity produced by the on grid solar power plant project and generating electricity in parallel with the Vietnam National Grid to ensure compliance with the power industry technical standards and power system operation regulations.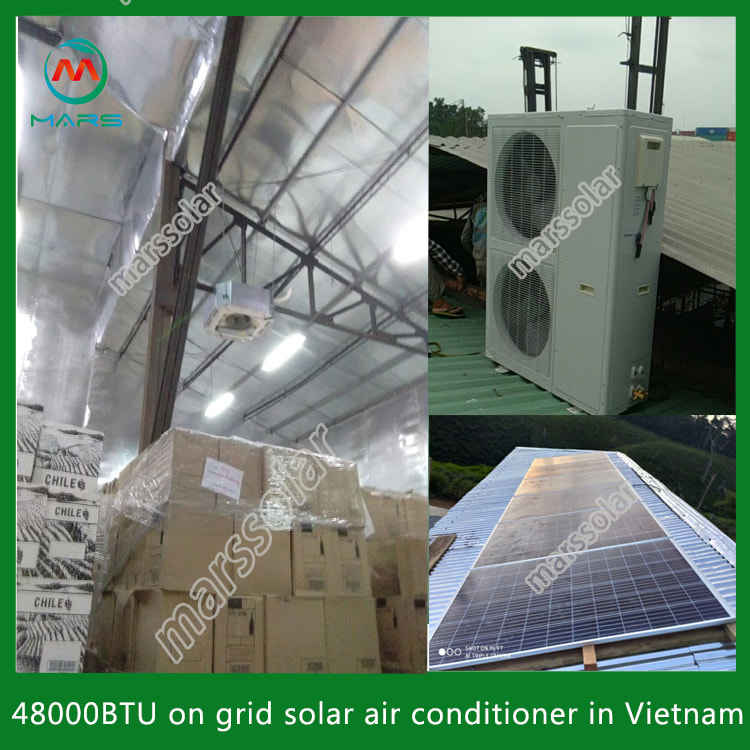 In the solar industry, in addition to installing a solar grid-connected power generation system, you can also use a grid-connected solar powered air conditioner.
Sam come from Vietnam.He was looking for several units for commercial use restaurants, 48000 btu cooling solar powered air conditioner.The on grid solar powered air conditioner work like that:

It include some pieces solar panel,on grid solar air conditioner(indoor unit and outdoor unit),city power.In the day time,solar panel generate power and supply power to air conditioner,additional power will send to city power.If the solar power is not enough,then can get the power from city power,air conditioner need to use a lot of power,use on grid solar air conditioner can save a lot electricity bill.