Location: Durban,South Africa
Capacity: 3KW solar panels for home
System details:10pcs 300W solar panel,PV array combiner,3KW solar inverter with controller build in,4pcs 12V200AH gel battery,solar panel braceket,cable and connector
Mr.Xolisa is finding one set solar panels for home. He contact Ms.Lucy and ask her provide a solar panels for home proposal to him. He have one fridge,one 1.5HP air conditioner and some another appliance like TV,light etc. According to his appliance details, Lucy suggest him use 3KW solar panels for home. This system can supply solar energy to his home and the cost is not a lot. During 3years, Mr.Xolisa can use free energy from sunshine. After 3years usage, Mr.Xolisa can call back this investment and begin to use renewable energy until 25years.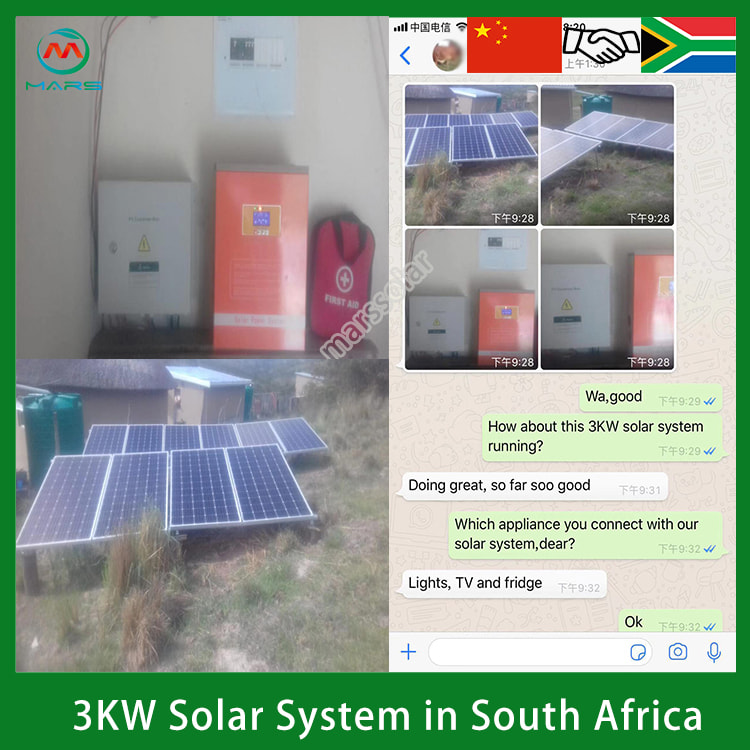 "That is a great idea, this free energy plan is exactly what i need. I will buy it, dear Lucy",Mr.Xolisa said. But his is not have a company, the import from China to South Africa need to get a licience. After 20days waiting, Mr.Xolisa get the licience finally, and make the order for this 3KW solar renewable energy system.
Because Mr.Xolisa have ordered another products from China, he want us gather them together and ship to him in one time. It can help Mr.Xolisa save shipping cost and import cost. Everything which can help customer, we are pleased to provide help to them. So We agree that. We help him find these supplier one by one, make arrangment for the delivery and customs. Finally Mr.Xolisa receive the solar free energy system and install the solar renewable energy system in his home.
After the customer receive the solar free energy system, we will provide a customer satisfaction form to some customer. It is for random. This time, Mr.Xolisa have received this form. One of the questions is, why you chose Mars as your supplier. Mr.Xolisa answer that, Mars is professional factory which will provide good quality solar system to me and Lucy reply me in a very short time, the service is very good. It mean that when i have question for the solar system, I have 100% confident that Mars can provide in time service to me, answer my questions, slove my problems. With Mars, my money will be safe. That is the reason why i chose Mars as my supplier.