In some countries,the governments encourage people who install on grid solar electricity system. The power generation from solar electricity system can cover their house electricity bill.Like Sri Lanka, Vietnam, China,American, Europe.
On grid solar electricity system include solar panel,on grid inverter,cable and connector,solar panel bracket,not included battery,the main use is transfer solar electricity to city power,it mainly use those areas have good city power condition.In the night time,it don't have power generation,so the inverter will in standby status,and wait the sunshine.On grid solar electricity system have three ways to cover the electricity bill.One way is how many KWH power home solar generate and send to city power,the government pay the corresponding money to the house owner.The second way is the power home solar system supply power to your home,if you can not used up these solar photovoltaic power,then sale to government.The used up solar photovoltaic power have few subsidy to user,the user save the electricity bill and can earn money.The third way is How many KWH power home solar electricity you send to city power,then you can get the corresponding amount free electricity amount in your electricity account,when you need to use electricity,then you can pick up these electricity amount.And If the solar photovoltaic power is not enough,then user will buy some electricity amount.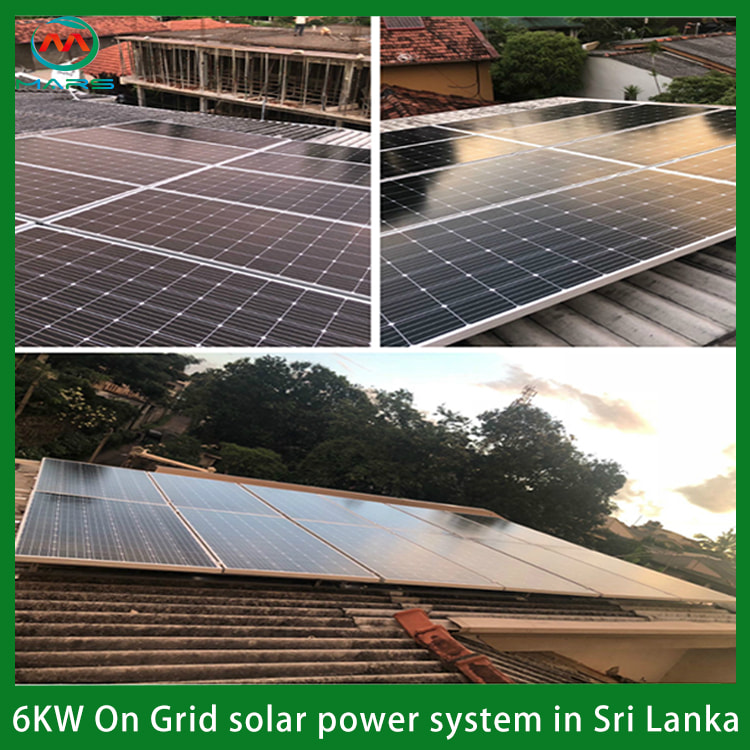 Sri Lanka is the third way. DJ is a Sri Lankan who live in Shanghai.He want to a 6KW on grid solar photovoltaic system in his country.Normally solar panel have 10years warranty,on grid inverter have 5years warranty.But DJ think he need 10years warranty for both solar panel and on grid inverter.The design use life for on grid inverter is 10years,there are not a product which the warranty time can cover the use life.But he insist on have it.Then Mars engineer spent some days and design a specially design on grid inverter to DJ's on grid solar photovoltaic system.It can meet the requirement for the 10years warranty,but the price will increased.DJ think it is worth,then we make the 10years warranty on grid inverter to him.The power home solar system have installed more than 1years,he tell us that this solar power panels system have helped him save more than 3000 dollar electricity bill.
Do you want to earn money and save your electricity bill?Contact Mars to get quality product details right now!