Mr.Thanya is from Bangkok,Thailand. His company mainly do kinds of goverment projects in Thailand. This time we want to buy some 80W integrated solar street light, provide samples to goverment for test. Thailand have good sunshine, and the electricity are expensive. so solar power system,integrated solar street light system are widely use.
We have a lot of shipping company contact,so in this sample shipping. Mr.Thanya only need to wait in his home and the integrated solar street light sample will arrive. He was so satisfaction for the service from Mars. After he get those integrated solar street light sample, he was so confused. How to make this solar powered street lights work? Because it don't have switch in the lamp. After talking with our sale,he know clearly that.
Mars solar powered street lights use advanced technology controller,it don't need to open the solar powered street lights by switch. Just let the solar panel face to sunshine,let the sunshine active the controller.Then in the night time,the light will work automatically.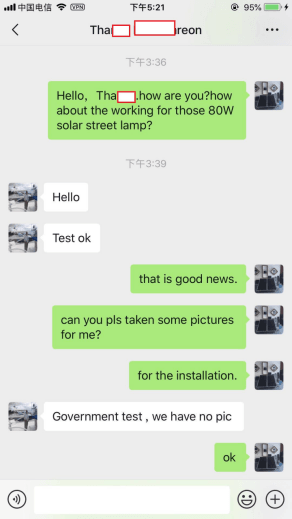 Now Mars solar powered street lights have passed the test from goverment. Just wait for the solar powered led lights project budget to order big quantity.