Foshan Mars Home Solar System: Government Project Standard 5KW Solar Panel Kit
If the quality standard of a solar panel kit meets the requirements of the government project, will you buy it with confidence?
Let us show you this project:5kw solar panel kit system installed in Rural Health Center, Government office.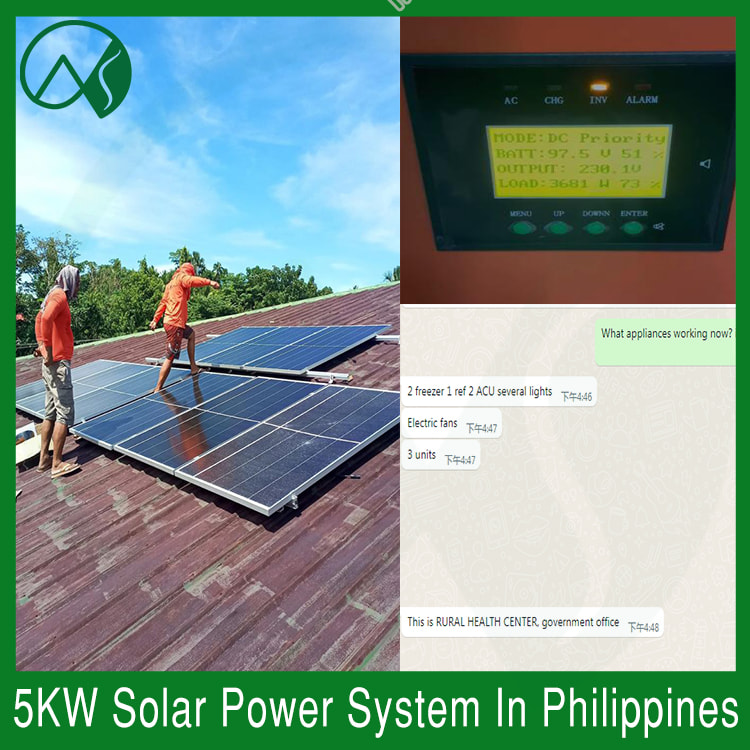 When received the client's requirements, Dennis start to search 5KW solar panel kit in local market and also on line.
Because this is government project,and this is a Pilot project, if it can work well, it can be promoted to all parts in Philippines.
From local market, mostly are the high frequency inverter, and the system are not complete, you need buy the accessories additional. Dennis learnt from technician that low frequency inverter is more stronger in working inductive appliances.
Because there are 2 air conditioners and freezer, we suggested use our IGBT inverter that with stronger impact resistance to Dennis, and also show him our inverter inner strong components. What's more, our details did very well, our battery cables are ready with the connectors, really let "plug and play solar system" come true.
To Philippines we offer door to door delivery service to client, after confirm the proposal, then order, then the rest work for client is only waiting at home to receive the solar kit.
What appliances A 5kw solar panel inverter battery kit system can work?
2 freezer
1 refrigerator
2 Air conditioners ( inverter type)
several lights
3 ceiling fans
Welcome to contact Foshan Mars Solar Sale team get one stop service for solar panel inverter battery kit.