The Federal Republic of Somalia located in Eastern Africa.It have civil war in Somalia since 1986,the war have continued to this day. Medical, energy and education are all lacked in this country.So Mr.Mango is searching 15KW residential solar power system in Internet,and want to get 15KW residential solar power system and 15KW per hour power supply to his hospital.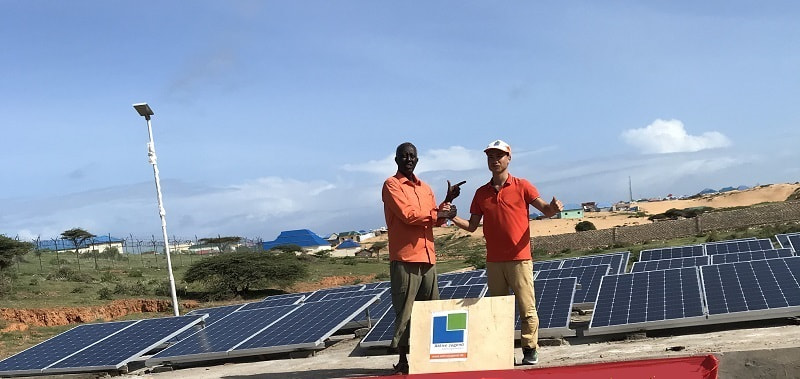 Mr.Mango's hospital have 6pcs air conditioner,each air conditioner is 1.75KW,some medicial machine,20lights,2pcs freezers.3air conditioners need to work every 24hrs,3air conditioners work from 9am to 5pm.Light will work from 9am to 5pm.Freezrer need to work every 24hrs.After checking his power consumption and appliance capacity,our engineer design a residential solar power system which is suitable to him.But he insisted that he need 15KW residential solar power system only.15KW residential solar power system can supply power 6air conditioners and some medicial machines,but it may not have enough power to run 24hrs.We talk to him every things and provide the suggestions to him.But he don't agree.
Then we informed him,this home solar panel system can supply power to your hospital,but the working time is not 24hrs.If in the future,you want to extend the working time,then need to add some solar panels and batteries.If you agree that,then we provide the 15KW home solar panel system to you.Mango say,i agree.
After shipping arrive Somalia,our engineer come to Mr.Mango's hospital.Help him do the installation for home solar panel system.The home solar panel system running are very well.But the working time is the same as what our engineer think about.So now Mr.Mango is planning to ask help from Mars upgrade this solar power equipment system.Mr.Mango are so grateful for Mars's service and quality assured home solar panel system.Hope Mars solar power equipment can help not only Somalis,but also human all over the world can improve the medical condition.