Simon is from Congo, Africa. He has been doing business in South Africa and Congo.
There are many inconveniences in life due to power shortage,

For example, there is no WiFi or electricity to work because of power failure. It is dark at night. The use of diesel generators is too noisy, and the fuel is becoming more and more expensive. Occasionally, a friend suggested him to buy a easy solar panel kit, which is quiet and convenient. Easy solar panel kit can be used as the main power supply or the standby power supply in case of shortage.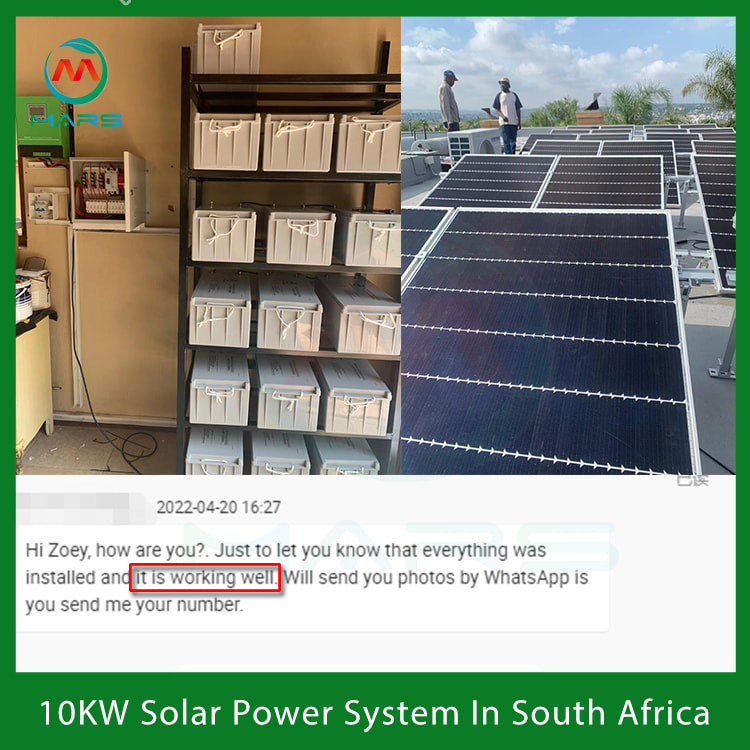 At the beginning, Simon consulted about the 40KW easy solar panel kit. After analyzing the number of bedrooms in his house and the electrical appliances used, we concluded that 40kW is too powerful for Simon, so it is not necessary. Choosing a 10kW easy solar panel kit is enough.
A set of 10kW easy solar panel kit is enough for a house with three bedrooms, and two 12000btu air conditioners, refrigerators, lights, televisions and other household loads can work at the same time.
We also shared with Simon our company's quality control system, starting from materials: PERC shingle panels make more generation, gel battery we use German technology, inverters is made by Japanese Fuji IGBT Module make sure longer life and much better performance when working inductive loads like air condition and freezer, water pump etc.
Simon likes our design and quotation very much. He also sees the feedback from our customers. So When he was ready, he placed an order immediately.
Simon had received our cheap off grid solar system installation instructions before receiving the goods. In the first week after the arrival of the 10kW cheap off grid solar system, they installed this cheap off grid solar system perfectly and began to enjoy the high-end life.
He said that: I will install one at my home in Congo and buy cheap off grid solar system, waiting for me.