Phirith is from Cambodia.Because the electricity in his area is unstable.so he want to use 3kw off grid solar system.But he have a trepidation about the battery use life.So we explain a lot of technical data and research to Mr.Phirith.Let him know some ways which can extend the battery use life.What do we explain to Mr.Phirith,pls come with me.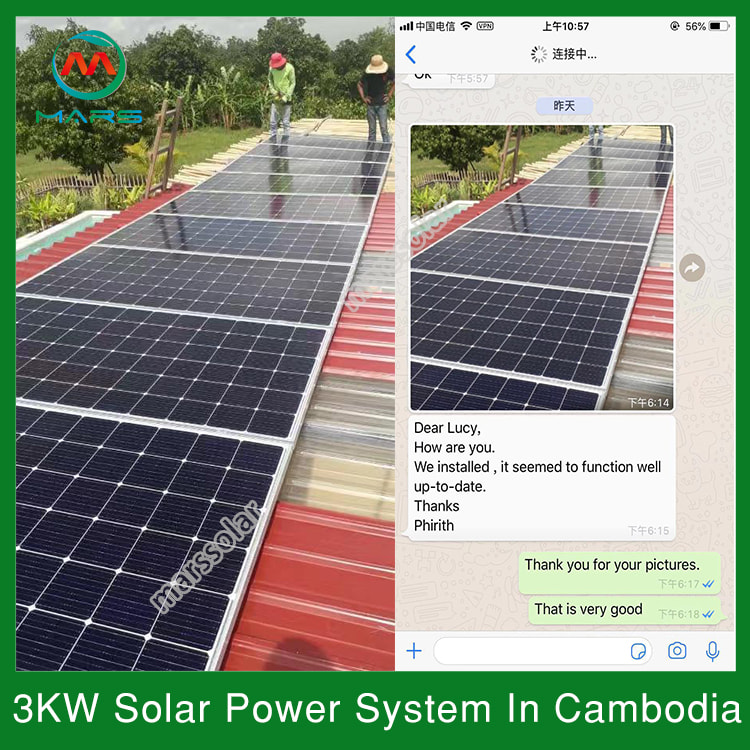 As a professional solar system manufacturer,Mars Solar have provide A grade complete solar kit materials to each customer.So the solar panel have more than 25years use life,inverter/controller have 10years use life,battery have 6-8years use life.Let us regarding 3kw off grid solar system will use 25years,then during this 25years,we need to replace 0time solar panel,1time inverter,4times battery.
Now if we want to extend materials use life,only can change the materials.Use another materials like lithium battery,can extend double times use life but the 3kw off grid solar system cost still will increased double times.So should we have another way to extend the battery use life,but without increased 3kw off grid solar system cost.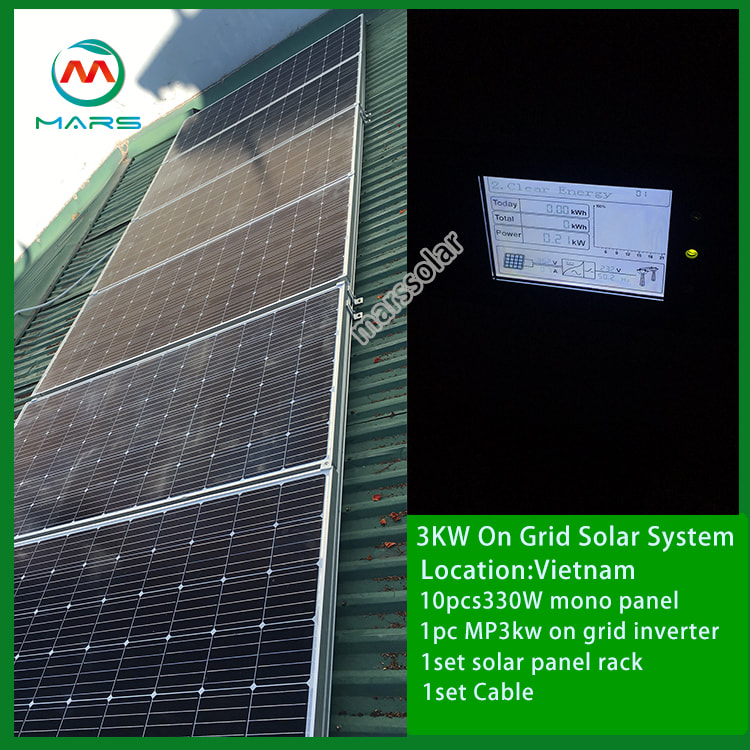 Surely we have!The keys are for controller and inverter setting.The battery use life based on its cycle time.One charge and one discharge finished,then one cycle time finished.If we use a complete solar kit which can use less times batteries,then we can reduce the battery cycle times.It have a complete solar kit,which can work without batteries.The working way is like that:complete solar kit can work without batteries,energy share from city power and solar to load directly.Without batteries,it can help to reduce the whole solar panel inverter kit cost and can save electricity bill.If it connect solar panel inverter kit with batteries,then it can coverter solar power from solar panel to load directly and at the same time remaining solar panel inverter kit converted to batteries.When solar panel inverter kit output reduce in cloudy or at nights,loads power by city power and batteries is charged by city power.When not city power,batteries discharged.This setting save battery use life.And in the future,if the battery use life use up,still can connect with solar panel only,not use batteries.Are you clearly now?