Can you ship 10KW solar system kit to me sooner? I'm currently spending $5,000 a month on diesel or my house will have no electricity. --- Customer from Liberia,tell to Mars Solar.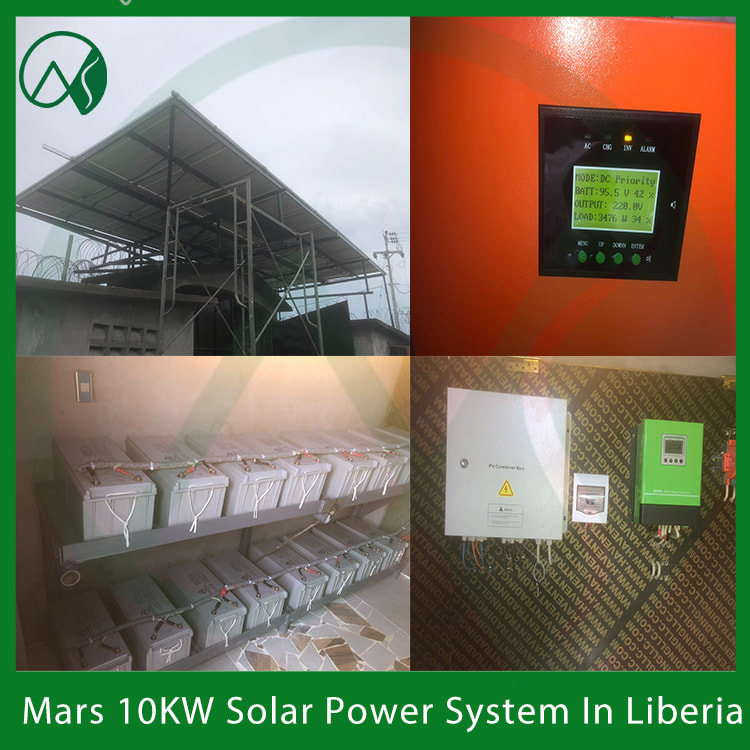 Steven is from Liberia. Unscheduled power outages and high electricity bills gave him an urgent idea to install a solar energy kits.He told Mars professional salesman Maggie that his appliance include 3 air conditioners, 1 refrigerator, and 1 water pump, but the 3 air conditioners are not always turned on, and the water pump is only used for one hour a day. Maggie recommended a 10KW solar system kit to Steven.
If your home's load is similar to Steven's, you can refer to the 10kw load table,get a 10KW solar system kit for your home.
10KW solar system kit Load reference

Load name

Load's watt

Qty

Total watt

lights

11W

20

220

Fan

80W

4

320

Computer(LCD display)

150W

2

300

printer

250W

1

250

Fax machine

150W

1

150

refrigerator(200L)

120W

2

240

Washing machine

300W

1

300

Microwave

1500W

1

1500

Electric cooker

300W

1

300

Air conditioner(1.5HP)

1125W

4

4500

Satellite TV receiver/VCD

25W

1

25

Color TV(32 inch)

150W

2

300

Water pump

200W

1

200

Total

8855