A good solar unit for home must be able to improve customers' lives. We have always been committed to providing customers with efficient and high-quality products and services.
1. Background of this solar unit for home project
The customer comes from Lebanon. Since the energy crisis in Lebanon, only 2-4 hours of electricity have been available every day, seriously affecting the operation of the customer's warehouse. Therefore, she urgently needs a solar unit for home that can provide her with 24 hours of stable power supply.
2. What has Mars 10KW solar unit for home solved for customers?
First of all, the 10KW solar unit for home provides customers with 45A output (based on 220V ). Customers can use 2units 1125w (1.5HP, means 13500BTU) air conditioner, fridge, lights, computers, etc. at the same time to ensure the normal operation of her warehouses.
Secondly, it can also ensure that the refrigerator in the warehouse is continuously powered 24 hours per day.
Most importantly, customers can choose to use city power or solar power generation priority, so as to achieve the best combination of all energy applications.
3. What are the most memorable points of customers?
The Lebanese market is full of too many products and prices, and there are many machines, including some well-known brands of machines, as well as some lower specification versions, which flow into the market, making many customers buy cheap but nondurable solar inverters and systems.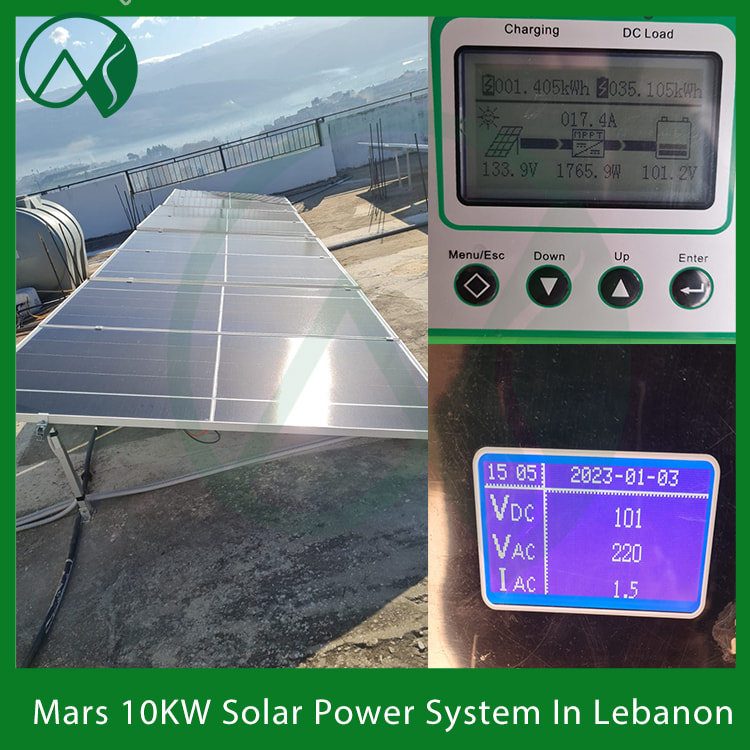 What we recommend to customers is our low frequency inverter solar unit for home . The advantage of low frequency inverter is that it has stronger impact resistance, especially when carrying inductive load( air conditioners, motors , heat pump etc).
The temperature in Lebanon is very high in summer, so people must use air conditioning. Using our IGBT power low frequency inverter can make the customer's system run more smoothly, and the service life of the solar unit for home at least 60% higher than that of the high-frequency inverter system on average.
Through data comparison, picture explanation and video meeting, customers believe in our specialty and choose our solar unit for home. Until today, we are still cooperating.