Due to the simple and fast declaration procedure of the prefabricated house or container house, and the simple construction, it can meet the project demand in a short time. Temporary hospitals, temporary experience centers, and temporary residential areas all like to use prefabricated houses or container houses.
These prefab and container homes are often installed far from urban areas and grids, so power shortages can be a problem. In this case, solar powered container home is a good solution. The solar powered container home can install solar panels on the top of the container,not only can generate power from sun light,but also can shield the container from the sun. Accessories such as solar panel inverters and batteries do not occupy much space. They can be installed in metal boxes and fixed inside or next to the container home.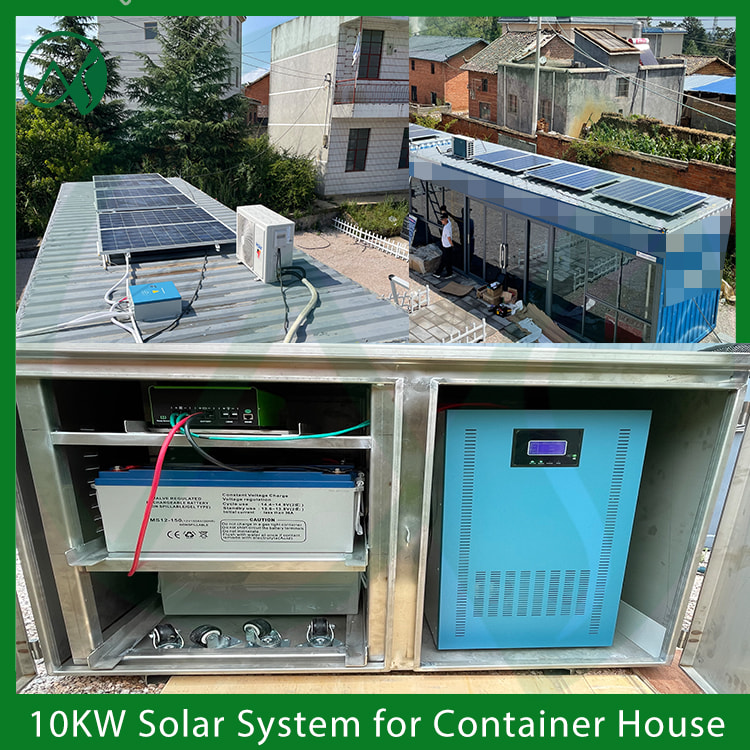 This is a 10KW solar powered container home which supply power air conditioner,TV,light etc appliance.In this solar energy system ,Mars inverter use Japan brand IGBT materials.We are the first factory who use IGBT technology in inverter.Strong inverter can ensure this solar energy system have stable and durable output,undertake more appliance.
In addition to this split off-grid solar energy system, we also have an all in one off-grid solar energy system for the prefabricated house or container house to choose.Which type solar energy system do you want to use in your prefabricated house or container house?Pls contact Mars to get more information.