According to the draft "Sustainable Energy Development Strategy by 2030" published on the website of the National Assembly, Bulgaria aims to reach 2,645 MW of new renewable energy power generation capacity within this decade by 2050. And the newly added installed capacity includes about 2.3 GW of solar energy kit and wind power projects.This shows that Bulgaria's demand for solar energy kit will gradually increase in the future.
Stoian is a customer from Bulgaria. After viewing our website, he asked our sale engineer Elin about the 5kw solar energy kit. Then Elin sent the full information for 5kw solar energy kit to Stoian.Stoian was very interesting in Mars solar energy kit products. Because he is not familiar with tariffs and don't know how to find tariff issues.Elin carefully answer the tariff questions for customers, provide the customs code to Stoian.Besides,Elin tell to Stoian that it does not matter if they are not familiar with customs clearance. Our goods have arrived at the Bulgarian port, the freight forwarder will contact he and will assist he in customs clearance.
To allow customers to buy solar house kit products that are worthwhile, we design the bracket for the customer according to the customer's solar house kit installation place. After understanding, Stoian hopes to install the solar panel on the roof, and we designed a bracket according to the roof materials for him.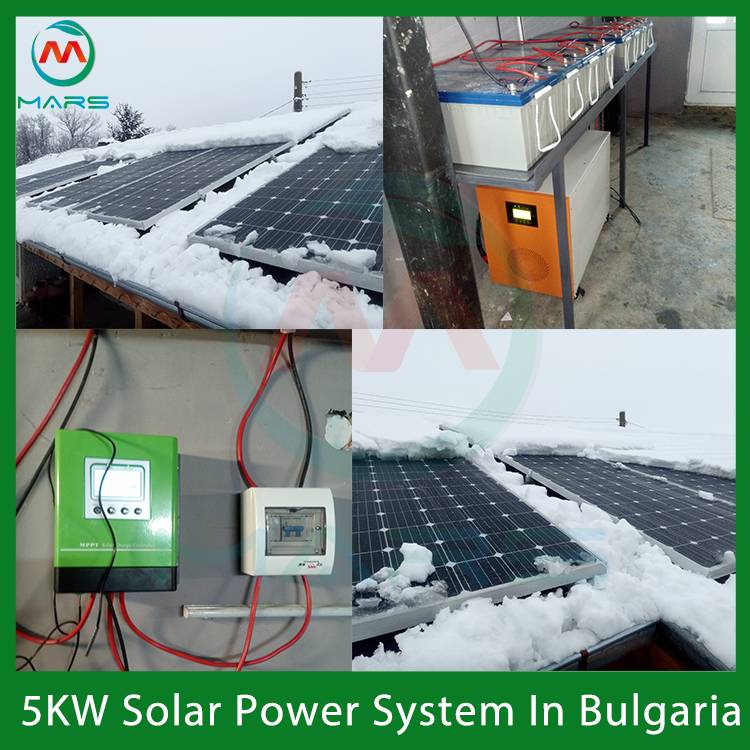 MARS solar house kit is a complete set of solar systems, including solar panels, batteries, inverter, controllers, combiner, panel bracket and cables.
1. Our solar panel bracket uses super thick aluminum to ensure that it can fix the solar panel on the ground or on the roof.
2. We use 100% original Suntech Class A solar cells, all of which can pass the EL test. And our solar panels can be used in any environment.
3. Our inverters use Japanes IGBT materials. We are the first company to use IGBT technology in single-phase inverters.
4. Our controller uses top brand IGBT, which has high performance and stability.
5. Our batteries use German technology. Engineers from Sonnenschein in Germany will come to our battery factory and ensure that the battery technology, materials and product standards are the same as the German factory.
We provide customers with a complete set of solar house kit. Our customers installed our solar house kit as soon as they received the product, and reported that such a complete set of solar house kit brought him a lot of convenience in the installation process, because there is no need to buy other accessories. And in the snowy winter, our solar panels can still operate very well, saving customers a lot of electricity bills, and bringing a lot of warmth in the cold winter.