Kavishe comes from Dar es salaam, the largest city in Tanzania. In 2018, he found mars solar and wanted to install a 10kw simple off grid solar system sample. After a year of detailed discussion,he known every thing for simple off grid solar system.Because the budget have limit,Kavishe bought a 5kw simple off grid solar system in 2019.This 5kw simple off grid solar system have passed the COC certification before shipment.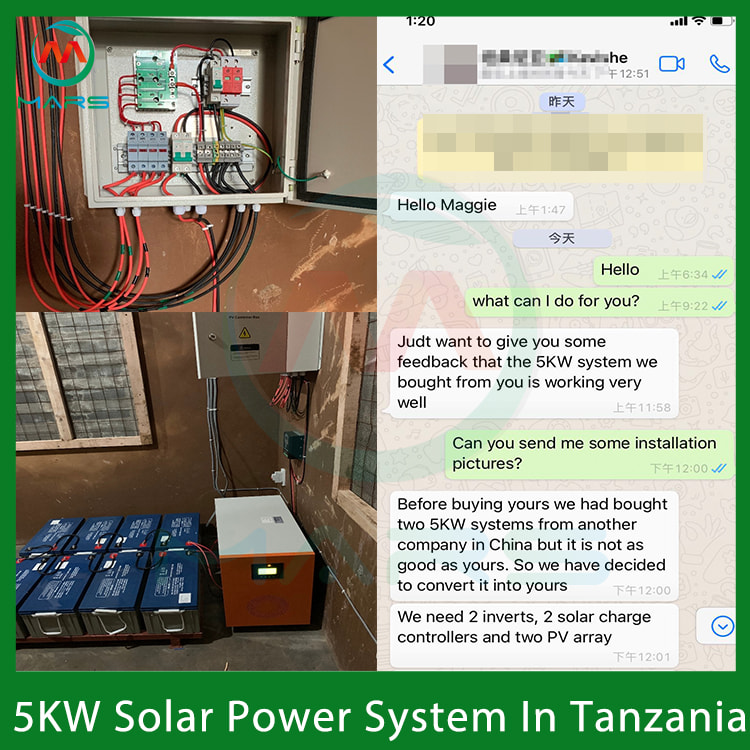 When the cargo arrived at the port and was transferred by truck, the truck had an accident halfway, so 4pcs solar panels were broken. We immediately resent 4 pieces of new solar panels to him, and arrange the shipping to the Dar es salaam city, he can directly go to the local warehouse to pick up the goods, saving the cost and time of customs clearance. He is very satisfied with Mars's fast after-sales service.
In 2021, he found us again and gave feedback on the usage of the 5kw off grid solar panel system and installation pictures. He was very satisfied with our quality and placed a new order. Now that the new order has been ship I hope he can receive the goods as soon as possible, and our cooperation relationship will be longer and longer.