Guatemala is located in the back region of Central America, with a tropical climate. The annual average sunshine radiation is 1933kwh/h. With abundant sunshine resources and the government encourages the development of pv solar system, the Guatemala pv solar system market has great development potential and is known as the leader of the Central American pv solar system industry.
Ricardol comes from Quetzaltenango, Guatemala, a hurricane-prone area with a maximum wind speed of 110mph. Regarding the design of the pv solar system, Ricardol fully communicated with the engineers with 10 years of design experience in Mars Solar. In view of the high wind power in his area and the difficulty of obtaining local cement materials, we designed a solution of 76*3 round steel pipe spiral pile heads and expansion joints directly connected to the cement roof. Due to the height limit of the building, the best guarantee on the premise of power generation efficiency, make full use of the available space on the roof, and appropriately adjust the design of the solar panel bracket, and specially designed an optimized solution for the solar panel bracket with a height of 76 cm.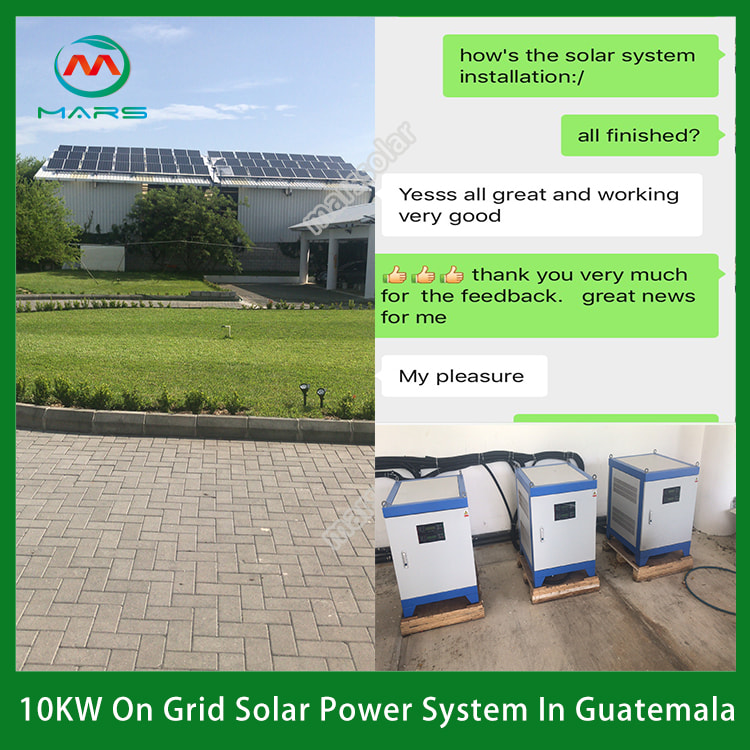 Ricardol was very satisfied with the final pv solar system design and ordered this 10KW pv solar system. When installation was required, his engineer and Mars Solar's ​training team conducted multiple installation and maintenance training on the Internet. After the training was completed, the engineer successfully installed this complete solar system for home. At present, the operation of the complete solar system for home is very smooth. Starting from the actual situation, it is the pursuit of Mars Solar to design and manufacture a complete solar system for home with high customer satisfaction!